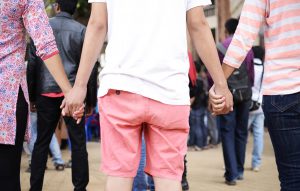 Last Friday here in the United States was the orgy of consumerism we call Black Friday. The idea is to get a good deal and not get hurt during the close-quarter scrapping with other deal-hunters. My own biases may be coloring that description.
This week, though, we have what's called Giving Tuesday, when we donate to good causes, and here's an activity you might try with your students to celebrate the better side of our natures.
Let your students know that you are planning to donate some amount to a good cause, but want their help in choosing the organization that will get the donation. You should genuinely be up for making a donation of the amount you identify, of course.
Ask them what causes are important to them. They may talk about caring for animals, warm meals for the homeless, sports programs for children, helping aged and/or sick people, or programs to help troubled youth. Keep in mind that these may come up for personal reasons, such as having a sibling in the juvenile justice system.
Give them the opportunity to research local organizations and make a case for a cause they like for your impending donation. Finish with a group vote or consensus decision on which organization will get the funds.
Ideally, this will help them better understand that there are many people who dedicate themselves to good causes, and that there is true joy and meaning that comes from helping others. They might even learn that there are organizations that help people like them (food for the poor, help for victims of domestic abuse, and similar).
Not a bad way to spend some class time, I'm guessing. And if you're looking to give students a powerfully memorable learning experience, this is one avenue with good potential to make it happen.

Other items of potential interest:
The Next Vista Creative Fire '17 video contest is finishing up soon, but there's still time to enter. Find details here.
If you're looking for a nice set of student-created videos to give your class ideas, then give this doc a look. You can share it easily with this shortened URL: tinyurl.com/NV-video-sets
The November newsletter has loads of great free things a teacher might want to listen to, watch, read, and try. Find the web version here. Watch for the December issue, which is dangerously close to being ready!
image credits: